2018 Laundon LOOP Race ... Nov. 4th

PYCR's race, the Laundon LOOP, is held early every November, normally on the Sunday when Daylight Savings Time ends. The race was concocted in 2005 by John Kennedy and John Flory, who felt that a club is not a real club unless it holds a race. John Laundon devised the course, so the event was named after him. Starting at the clubhouse, the course runs upstream roughly 1km before entering Selden Creek. After a series of S-bends in the Creek, it continues though Selden Cove and, after a final S-bend, rejoins the River. From there it follows the River back downstream to finish at the clubhouse, for a total distance of about 10km.
• 2018 LOOP Registration Form & Waiver
• LOOP Course Chart
• LOOP Course Map

• 2018 LOOP Results
It is contested in five categories:
Men's and Women's Singles
Men's and Women's Doubles
Mixed Doubles
The results are handicapped by age using a system based on the one developed by Guenter Beutter for the GMS Race.
Conditions on the River are sometimes windy, so rowing in a double can be advantageous.
Massed starts are used, the River being quite wide at the clubhouse. For the starts, categories may be combined in some cases depending on number of entries. The first leg to Selden Creek is a sprint because the Creek's narrowness makes passing in it extremely difficult.
After the race, contestants, officials, and safety boat crews enjoy a variety of pies with coffee, in front of a fire in the Commodore's Room at the clubhouse.
This is a relaxed, season-ending event that has become popular among scullers from all over the Northeast. Limited space for parking at the clubhouse forces us to limit entries to the first 50 boats that enter, so entering early is wise.
Click here for Loop Race Results 2005-15.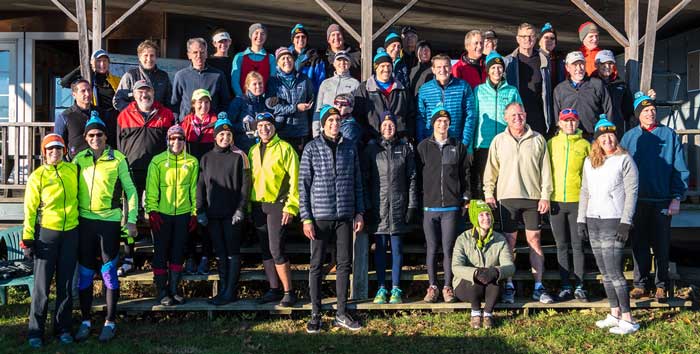 2018 Loop Race Competitors (Photo by Joe Sina)