PYC Officers welcome member feedback to improve the grounds, clubhouse, sailing programs
and general management of the club.
Click this button to point out areas of concern and suggested repairs. Thank you.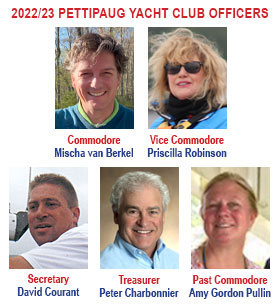 Mailing Address
P.O. Box 372, Essex, CT 06426

Clubhouse Location & Phone
Great Meadown Rd., Essex, CT (see directions below)
(860) 767-8893

OFFICER CONTACT INFO

Mischa van Berkel
Commodore
(908) 487-0364
commodore@pettipaug.org

Priscilla Robinson
Vice Commodore
(860) 391-7352
vicecommodore@pettipaug.org

David Wemett
Rear Commodore
Chair of House & Grounds
(860) 994-3057
david.wemett@gmail.com

Amy Gordon Pullin
Past Commodore
(203) 912-3421
pastcommodore@pettipaug.org

Peter Charbonnier
Treasurer & Membership Interim Chair
Registrar of Pettipaug Sailing Academy
(860) 767-7556
treasurer@pettipaug.org

Brian Donohue & Dick Hutchinson
Race Committee Chairs

Doreen Joslow
PYC Rowing
rowing@pettipaug.org

PYC By-Laws

Directions to Great Meadow Rd. in Essex from I-95:
1. Take I-95 to Route 9 north (exit 69), at the West end of the Baldwin Bridge.
2. Take Exit 3 (Essex) off Route 9 North.
3. At the bottom of the ramp turn left.
4. At the first light turn right, and go about 0.5 mile looking for the Essex Library on the left.
5. Just past the library, and just before the Essex Town Hall, turn left onto Grove Street.
6. Go to the first stop sign and turn left onto North Main Street.
7. North Main shortly becomes River Road (no turns required!)
8. After a large stone wall on right (about 1.6 miles), PYC sign is on a post at the top of the drive.
9. Turn right onto private road. Pettipaug is the first building.